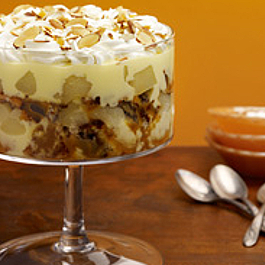 Courtesy of Wheat Foods Council
Servings: 16
Prep Time: 15 Min.
Cook Time: n/a
Chill Time: 2 Hr.
* 10 c. cubed prebaked cinnamon rolls (2 10-oz. packages)
* 1 c. prepared caramel sauce
* 1/4 c. dark rum, optional
* 1 orange, washed, zest grated and juice squeezed (approximately 2 oz. of juice and 1 Tbsp. zest)
* 3 15-oz. cans pear slices, drained and diced
* 3 c. prepared vanilla pudding (1 5.1-oz. box instant vanilla pudding and pie filling, prepared with 3 c. 1% milk)
* 1 c. heavy cream, whipped till firm
* 1/4 c. toasted sliced almonds
1. Into a trifle bowl, or medium glass bowl, put 2 1/2 cups cinnamon roll cubes.
2. In a medium bowl, blend together the caramel sauce, rum (if using), orange zest and juice.
3. Drizzle the cinnamon roll cubes with 1/3 of the caramel sauce. Top with 1/3 of the pears and 1 cup vanilla pudding. Continue to layer in the same manner until you have used all the cubes, sauce, pears and pudding.
4. Cover and refrigerate at least 2 hours and up to 24 hours.
5. Spoon the whipped cream over the top of the trifle, or put it in a pastry bag with a large star tip and pipe it onto the trifle. Sprinkle with almonds and serve.
Calories: 290;
Total Fat: 9g;
Saturated Fat: 3g;
Cholesterol: 20mg;
Total Carbs: 49g;
Fiber: 2g;
Protein: 4g;
Sodium: 260mg;